Allan is a published cartoonist whose work has appeared in A Cup of Chicken Soup for the Soul, 1996; Chicken Soup for the Canadian Soul, 2003; Chicken Soup for the Breast Canacer Survivors Soul, 2007; Enlightening Moments, 2012
His cartoons have also been seen in The North Bay Independent (weekly newspaper 1989-1990), Stitches Magazine for Doctors, GP Psychotherapist Newsletter, and Psychologica.
Allan is the author of RELAX FOR THE FUN OF IT: A Cartoon & Audio Guide to Releasing Stress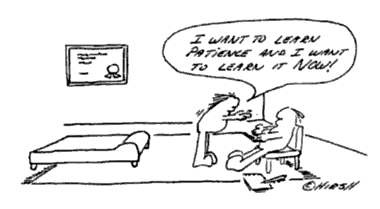 This book is designed to look at stress management in an entertaining, yet effective manner.
The 16-minute relaxation CD that comes with the book instructs listeners to systematically tighten and then release the tension in their muscles. One track includes a wake up and the second track can be used if someone wishes to fall asleep. This technique is called progressive muscular relaxation.
Relaxation deepens with practice. After a while you learn to relax away tension as it arises, before it becomes overwhelming.
It is easier to cope if one avoids getting too tired, cranky and hungry. A quick relaxation break can help avoid the experience of fatigue and negativity.
---

"Life is a continuing process of challenges, lessons and unfoldings. At times we are filled with fear and doubt. We do not trust our own abilities, we resent those around us and we want to rage at the heavens. At other times we want to give up and just stay in bed for a long time. Sometimes in the midst of our struggle we begin to glimpse renewed faith in our self and humanity. We feel positive energy again and love for those we care about. The state of peace and joy is an attainable goal, but it is elusive. When it is there, enjoy it. When it leaves, let it go. Trust that it will return. Witness with gentle curiosity what it is that you do on an inner and outer level that brings peace and joy closer to you. Watch what pushes it away. Good luck in your quest for relaxation. Be patient (at least some of the time). Be kind. Be aware."

Allan Hirsh, M.A., RP
---

Canadian orders. E-mail relax@allanhirsh.com for ordering information.

Top of the Page